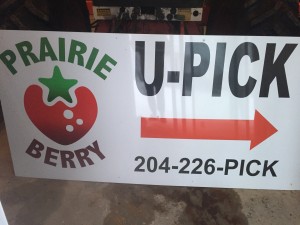 Please call or visit our main page for daily picking conditions!
We are located just 10 minutes south of Winnipeg off Highway 75!
Follow the signs to the berries.
Directions: Drive south on Pembina Hwy (Hwy 75) past St.Norbert , turn right on Glenlea Rd and a left on Andrechuk Road. Drive one km and you've arrived at Prairie Berry!
Note : If you end up driving past Ste. Agathe, you've gone too far!